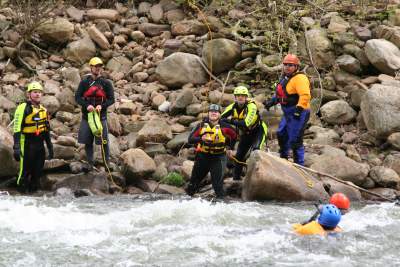 This website is a compilation of a number of articles and various web resources that cover all topics listed in the ACA (American Canoe Association) Level 4 Swiftwater Rescue (SWR) suggested curriculum. The ACA SWR class is essential training for all intermediate and above kayakers. The training provided in the SWR class not only teaches you techniques for potentially saving your boating buddies, it also provides valuable guidance on how to avoid incidents in the first place.
When I teach this class, I feel it is very beneficial to have students review this material at their leisure from home. The SWR discipline is very extensive and quite challenging to cover in just one weekend. I also recommend students purchase a copy of the Whitewater Rescue Manual (Walbridge & Sundmacher) and/or River Rescue (Slim Ray) - both are excellent resources you will enjoy for many years to come.
Real incidents are very stressful events. This is no time for learning on the job as not only victims lives are on the line, so are bystanders and rescue persons. We have learned a great deal over the years on what works and what doesn't. Les Bechdel and Slim Ray were early pioneers for these skills and have trained numerous SWR professionals. Charlie Walbridge maintains the AW Safety Database and is a leader the ACA SWR Training community. The Whitewater Self Defense DVD is an excellent learning tool as well.
We start this class by getting to know the participants, their paddling backgrounds, and perhaps specifics goals they are interested in learning during this class. Safety in all ACA classes is absolutely paramount. A key rule in every ACA class is the concept of "Challenge By Choice". Put quite simply, if a particular exercise is well beyond your comfort level - skip it.